Curry College
Event Types Welcomed
Corporate Social Events

Expo/Competitions

Family Reunions

Professional Meeting / Training / Conference / Retreats

Youth Retreat/Camps
About
Curry College is located on a beautiful 131-acre campus in Milton, Massachusetts just south of Boston and only a mile from Blue Hills Reservation. Curry College acknowledges that service and hospitality are instrumental to any successful event and offers individualized attention to those planning via a dedicated event coordinator that assists with all the essential steps of program coordination and site management. Because each client has a unique set of needs, Curry College offers a wide range of services that are uniquely customizable to your event preferences.
Curry College boasts state-of-the-art event meeting rooms, classes, residential complexes, athletic facilities, and dining facilities within walking distance on its centralized designed campus. The venue also offers catering and food services courtesy of Sodexo Dining Services, with the option to design a meal program that suits your specific needs and requests. Curry College has a host of accommodations located on its campus for overnight guests, ranging from traditional residential halls, apartment-like suites, and lounges.
Our amenities include complimentary high-speed wireless internet, complimentary onsite parking, an onsite bookstore, and around the clock security. These are just a few of the many benefits of hosting your event at Curry College.
Meeting & Event Spaces
Max Capacity: 1400 guests
Largest Classroom Style: 100
Largest Theatre Style: 229
Academic Year Largest Group: no

Classrooms
Classrooms feature full media services and technological capabilities and both tiered and flexible seating styles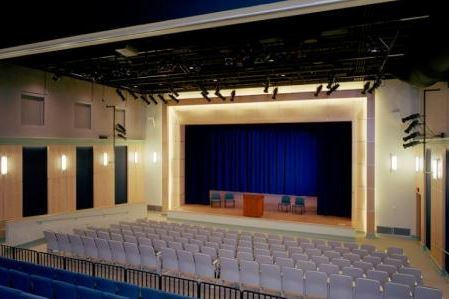 Keith Auditorium
The Keith Auditorium is a 225 seat multi-purpose auditorium capable of hosting a wide range of programming such as lectures, theatre productions, meetings and numerous other events. The Keith Auditorium can also be partitioned to create a black-box style theatre space.

Athletic Complex
Our sports facilities include grass and turf playing fields, baseball and softball fields, an outdoor pool, tennis and basketball courts. Within a short distance of the campus there is golf, horseback riding, hiking and an ice rink.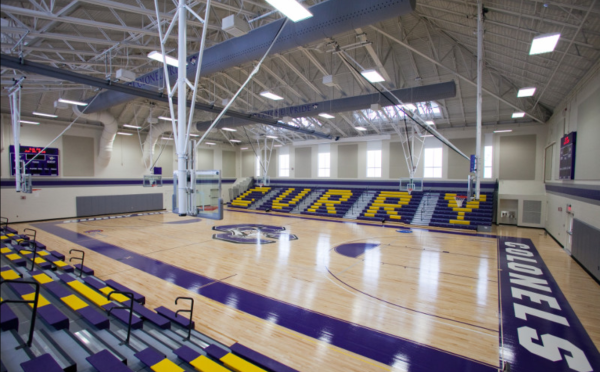 Katz Gymnasium
State of the art multi purpose gymnasium

Computer Lab
State of the art computer lab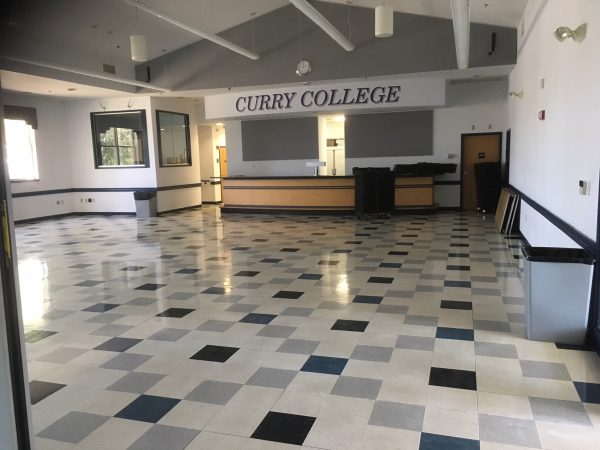 The Alumni Recreation Center
A multi purpose event space perfect for evening dances/discos, formal dinners, dance camps and theatrical art workshops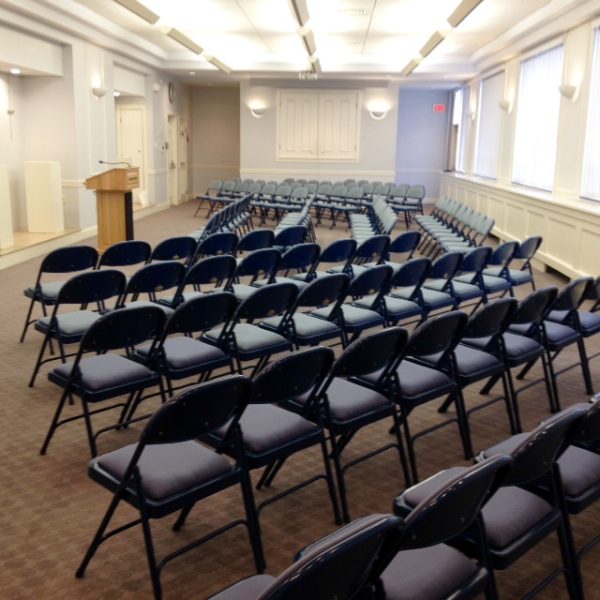 Parents Lounge
An intimate multi functional space for gatherings dinners and lectures
Food & Beverage Options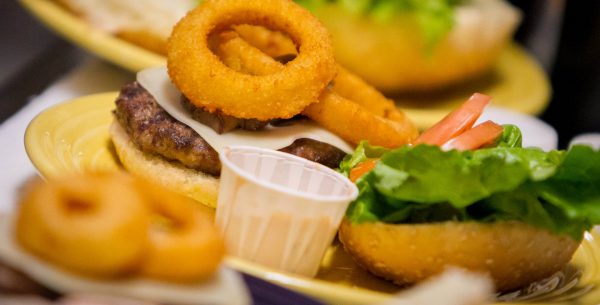 Sodexo Dining Services
The Curry Dining culinary team, led by Campus Executive Chef, Christian King, is a diverse group of passionate chefs committed to your dining experience. The Curry culinary team is also award-winning, being recognized in local culinary competitions for innovative recipes. Chef Christian's favorite season to cook in is summer because of the abundance of fresh fruits and vegetables that infuse high quality flavor into his menu. From heirloom tomatoes, to peaches, corn, asparagus, and more, Christian designs his menu based around peak seasonal ingredients when available.

Themed meals and special events are hosted over the summer to give a taste of something new to our guests. Past favorites have included "China Town Station" Asian cuisine dinner, ice cream sundae bars, Christmas in July, and more. Boxed lunches are also available through catering for meals on the go during camp excursions

Health & Wellness
Vegetarian and vegan items are available daily as part of the entrée offerings. Additionally, vegetable based protein options like tofu and local black bean and sweet potato burgers are also available to order. Gluten Free items are also present through-out the Marketplace and also available upon request

Special Dietary Needs
Guests with food allergies or other dietary accommodations are encouraged to contact Curry Dining to notify the culinary team of individual needs. Our chefs work closely with guests to communicate allergen information and customize allergen-free meals when necessary.

Sustainable Dining
Curry Dining is committing to using local food through-out daily menus, including seasonal produce from Costa, local milk from Garelick Farms, and local seafood from Red's Best and Ipswich. Pre-consumer food waste in managed in the kitchen through a system called Lean Path, which provides detailed analytics on opportunities for culinary staff to reduce food waste by managing day to day production. Post-consumer food waste is collected at the dish return and composted off-site.

TESTIMONIAL - Dana Fallis, Tamwood Youth Programs Coordinator
I would like to comment on the quality and presentation of the food at Curry College. This cafeteria is able to meet the tastes of both kids and adults with simple and gourmet option. For example, today at lunch we had chicken strips, salmon and mussels available as main course options. There is always a fully stocked salad bar with at least three salads and fresh fruit making it easy to make healthy eating choices. It is obvious that Keith and the Sodexo team care about nutrition as the portions are appropriate sizes, meats are lean cut, vegetables are often added into dishes, and the order of the display encourages our staff and students to select a well-balanced meal.
Sodexo are able to cater to a range of dietary restrictions including gluten and lactose intolerance as well as vegan and vegetarian diets. I am a vegetarian myself and I often notice that cafeterias accommodate dietary restrictions with one option. Here at Curry, the chefs make sure that there is a range of options for all dietary restrictions so that regardless of your food needs there are still delicious choices for you to enjoy. This summer, we even had a staff member who is both gluten and lactose intolerance and she has had no concerns with finding foods she can eat.
As an international camp, one of our challenges is providing meal options to meet the variety of tastes of our students from around the world. This cafeteria has successfully made a wide range of meals that suite the tastes of students for students from Asia and South America and Europe for the last 5 weeks of summer with no complaints from students or staff. Additionally, the team was happy to accommodate specific requests if students are missing foods from their home countries.
Accommodations
Total Number of Overnight Guests: 1400
Overnight Room Attributes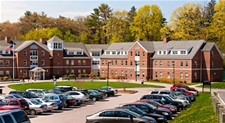 886 Brush Hill Road
886 BHR is a traditional-style residence hall with double and single occupancy rooms. The building is equipped with central air and heating for each individuals adjustment. The building is divided into nine pods and each pod has male and female restrooms, as well as a common area lounge with a TV, internet ports, and kitchen space. The main lobby lounge is the largest lounge in the building, and features a 50" TV, a kitchen with an oven and refrigerator, and plenty of gathering space. The building's laundry room is easily accessible on the first floor across from the elevator.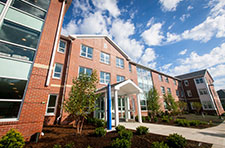 Bell Hall
Bell Hall is located mid-campus in proximity of the Student Center with double and single occupancy rooms . Its 46,000 square feet is home to 168 residents. Bell Hall boasts a large multipurpose space that serves as a classroom during the day and a programing and event space during the evenings and weekends. Multi-functional spaces within the hall can be utilized for traditional classroom learning, as study halls for both group and individual study, tutoring sessions, and other co- and extracurricular purposes as opportunities arise.

In addition to the benefits that Bell Hall provides its residents, features of its construction also assist in benefitting the environment. This residence hall is the College's first Leadership in Energy and Environmental Design (LEED) certified facility, as recognized by the U.S. Green Building Council.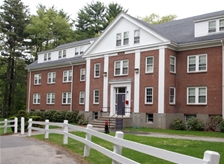 Lombard
Lombard Hall is a traditional style, co-ed residence hall housing 130 residents in double, triple and quad rooms. Located on the North Side of campus, Lombard Hall gives easy access to the academic quad and nine other places of residence on the north side of campus. The common spaces as well as laundry facilities are located on the garden level.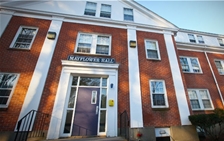 Mayflower Hall
Mayflower Hall is in the heart of North Campus. It is a traditional corridor style residence hall that consists of four floors housing a little over 120 residents in single, double and triple rooms. A laundry room is located on the garden level floor and a lounge on the first floor. The building also allows easy access to the academic quad and the other places of residence on the North Side of campus.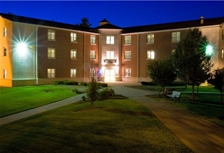 North Campus Residence Hall
North Campus Residence Hall (NCRH) is located on the north side of campus. The building is divided into eleven pods offering single, double and triple occupancy dorm rooms for a capacity of 199 beds. The first floor offers a large laundry facility, a common room to hang out and watch TV, and three kitchen areas. NCRH offers quiet study lounges with collaborative learning technology, and a large common meeting space on each floor. The building also is equipped with central air conditioning.
Scholars Hall
Scholars Hall is a traditional style residence hall on the north side of campus. Floors are divided by gender with a common bathroom in the middle of each hallway. Lounge space is conveniently located on the first floor and garden level, the laundry facility is also located on the garden level. Scholars Hall is home to 151 residence in single, double, triple and quad dorm rooms.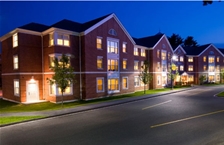 South Campus Residence Hall
South Campus Residence Hall (SCRH) is a three-floor residence hall located on the south side of campus. SCRH is comprised of double and single rooms in a suite style setting with a total of 170 beds. Each suite is equipped with two single bathrooms, a kitchenette, and a common space. There is a large common space on the first floor and one quiet study lounge per floor for the residents to use throughout the building, along with a laundry room on the first floor.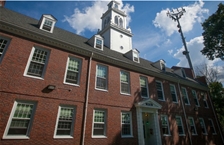 State House
State House is the only replica of the Massachusetts State House. This traditional residence hall is four levels and houses 84 residents in double and triple rooms. Floors are divided by gender with a common bathroom in the middle of each hallway. Lounge space is conveniently located past the entryway on the first floor with washers and dryers located on the garden level. State House is situated next to the Curry radio station and the academic quad on the north side of campus.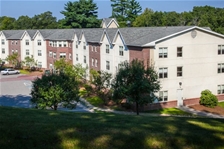 Suites
The Suites is a three floor residence hall located on the south side of campus. The majority of suites consist of three double rooms, a bathroom and a common area shared by the six residents. Located on the first floor is a common space/study lounge for students to utilize. Within the common space is a 50" TV and a fully equipped kitchen. A laundry room is also located on the first floor. The Suites is home to 147 residents.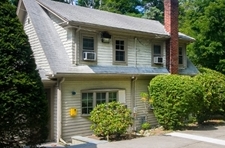 Various Houses
Curry College offers a number of private houses ranging in size for a more private stay.
Featured Amenities
Accessible Facilities

Air Conditioning

Fitness Center

In-House Catering

Laundry

Near Public Transit

Paid Parking

Running Trails

Theater Seating

WiFi
Venue Location + Transportation
Address
1071 Blue Hill Avenue,
Milton, Massachusetts 02186
Nearby Airport
Logan International - 30 minutes
Nearby International Airport
Logan International - 30 minutes
Nearby Cities
Boston – 7
Providence – 30
Cape Cod – 40
Things to Know
Catering
Must Use In-house Catering: Yes

Food and Beverage Onsite: Yes
Technology
Curry College provides a wide variety of audiovisual technology, along with both hard wired and wireless Internet access in our classrooms and meeting spaces. Boston area lodging includes cable/internet/local phone access. Computer labs are also available.
Guest Wi-Fi: Free

Equipment Available On-Site:
Testimonals
Curry College has hosted multiple courses of the Coaching Academy of United Soccer Coaches over the past five years, and our experiences at Curry have been exceptionally positive. The classrooms are well-equipped technologically and easy to use, the residence halls are contemporary and comfortable, the food service is staffed by customer-friendly professionals and produces delectable offerings, and the fields are well-manicured and located in a beautiful setting. Above all, the staff of Conference and Event Services are warm, gracious, well-organized, and attentive to even the smallest details for groups using the campus--sometimes even meeting our needs before we knew we had those needs!
--Dr. Doug Williamson, Senior National Staff Coach

United Soccer Coaches
Curry College hosted us for 6 weeks over the summer and I could not be more impressed with their caring hospitality and efficiency in attending to all our needs. The campus itself is naturally beautiful and we enjoyed the serenity as well as the close proximity to the city. The dining hall catered to every one of our campers/staff who had dietary restrictions. We were warmly welcomed from the moment we arrived on campus and I will be hard-pressed to find another campus team like this one.
--Briana Meehan, Boston Director

Tamwood International College
Services
ATM
An ATM is located on the 1st floor of the Student Center which is located in central campus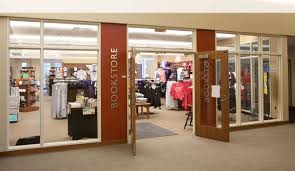 Bookstore
The Curry College Bookstore is located on the second floor of the Student Center. The bookstore carries college souvenirs, apparel, food and snack items, computer and office supplies.
Copy Services
The full service Copy Center, is located on the second floor of the Student Center.
Laundry
Laundry machines are located in each residential hall.
24-Hour On-Campus Security
The Department of Public Safety's mission is to provide a safe and secure environment for all students and hosted guests. The Department provides services 24 hours a day, seven days a week.
Vending Machines
Vending Machines are availble in many of our buildings
Parking
Parking is available on campus, arrangements can be made through the conference office
Individualized Attention
Your event coordinator will assist you with the many elements of your program coordination and site management before, during and after each hosted event. Curry understands that each customer is unique and offers a wide range of services that can be customized to suit your special needs.
Pool
Our outdoor pool is open late June to early August
Technology
Smart Classrooms
Classrooms and auditoriums with technology stations including a computer with internet access, video projector and smart boards
Computer Labs
State of the art computer labs are available to meet your needs
Internet
Complimentary wireless internet is available throughout campus
Technical Support
Technical Support can be arranged for your event
We Connect Unique People With Unique Spaces
At Unique Venues we believe that at the core of being unique is inherent inclusivity. We celebrate the notion that people gather for different reasons and that audiences are filled with humans of every race, gender expression, spiritual belief, sexual orientation, age, political leaning, and more.
All planners who inform us of a booking at one of our venues will be eligible for our monthly drawing for a $25 Amazon Gift Card. Be sure to let us know that you booked one of our outstanding unique sites! Just shoot us an email: sara@uniquevenues.com.